As we draw closer to the US election next week, the world is speculating the impact that the presidential outcome may have.
Surprisingly, given the worldwide pandemic, volatility within the US markets has actually seen an overall decrease since the beginning of the year. However, levels are elevated comparative to the last five years, and due to such high current levels of uncertainty this is something we can expect to see right through to election day.
So, what could happen?
In general, markets have tended to react more positively in the immediate aftermath of an elected Republican president, as the party's policies are broadly thought of as more 'market friendly'. Democratic policies tend to be less 'business-friendly' which can harm corporate profitability, and in turn sting investors.
However, it's just not a question of who wins, but of which party takes control of Congress, as this will set the path for policy and legislation over the next four years. Congress is made up of the House of Representatives and the Senate: the two legislative bodies are independent of each other and must agree for a policy to actually become law.
As the graphic below explains, which party holds a majority in the House and the Senate will influence the outlook for economic policy and US equities after the election.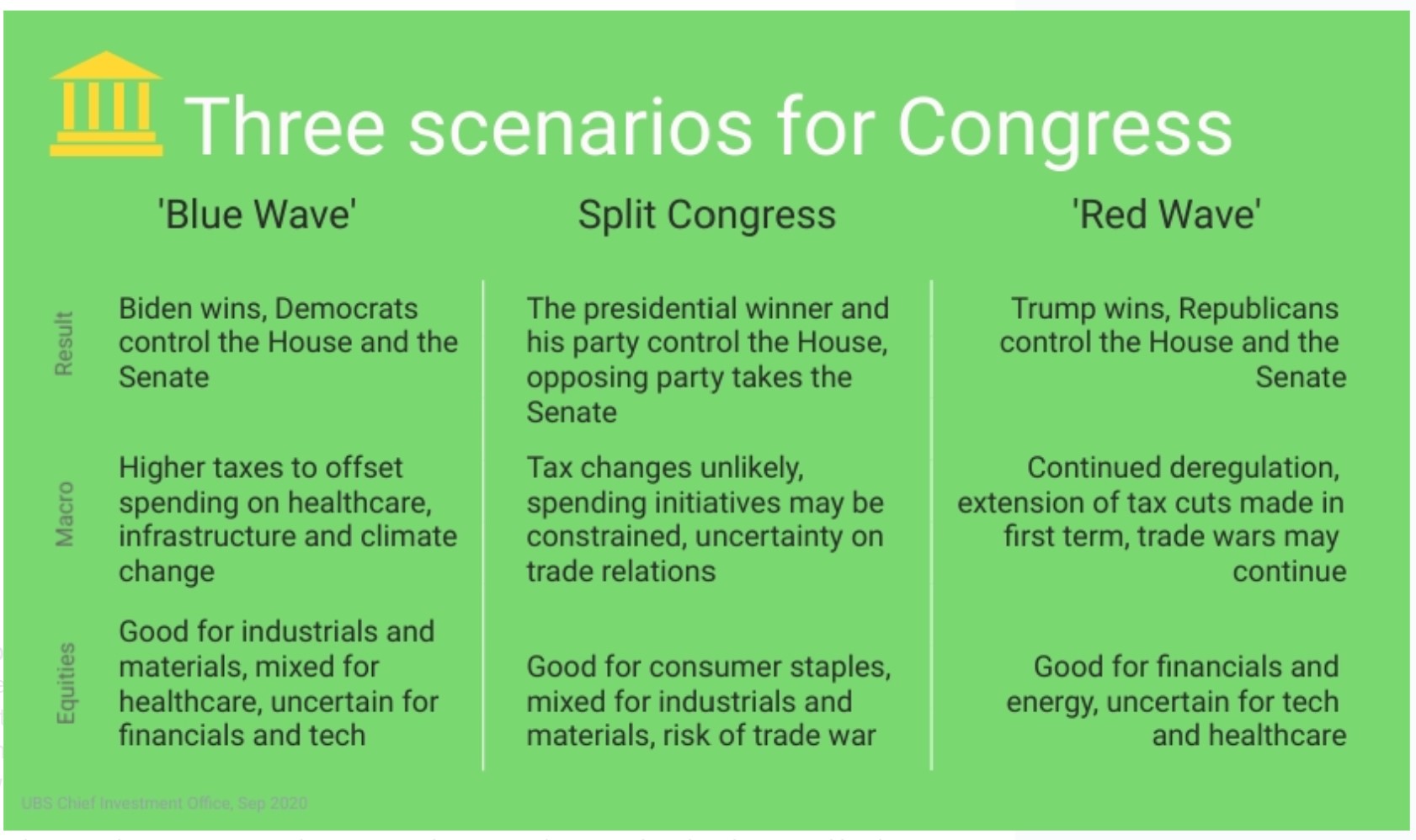 Sectors that are likely to benefit if President Donald Trump is re-elected are banking/finance, technology and traditional energy. Should Democratic candidate Joe Biden be elected, pharmaceutical companies could suffer and due to the talk of Biden's antitrust break up of big tech companies, tech company stocks could dip. However, interestingly as it stands, the NASDAQ seems to be unbothered by this and the big tech stocks are performing increasingly well.  Sectors that will likely welcome a Democratic presidency are infrastructure, clean energy and health-care services.
Remember to play the long-game
Although we can expect to see heightened volatility, investors should remain calm and don't allow election outcomes influence decisions – retain a long-term perspective. The chart below shows the historical returns of the S&P 500 index in the last twenty-three US presidential election years. More often than not, they have produced positive equity market returns – only four have delivered negative returns.
Ensuring you hold a well-diversified portfolio across asset class, country and sector is paramount to 'riding the storm' of increased volatility, particularly during any events such a as a political election. For more information on how the US election may affect you, please get in touch.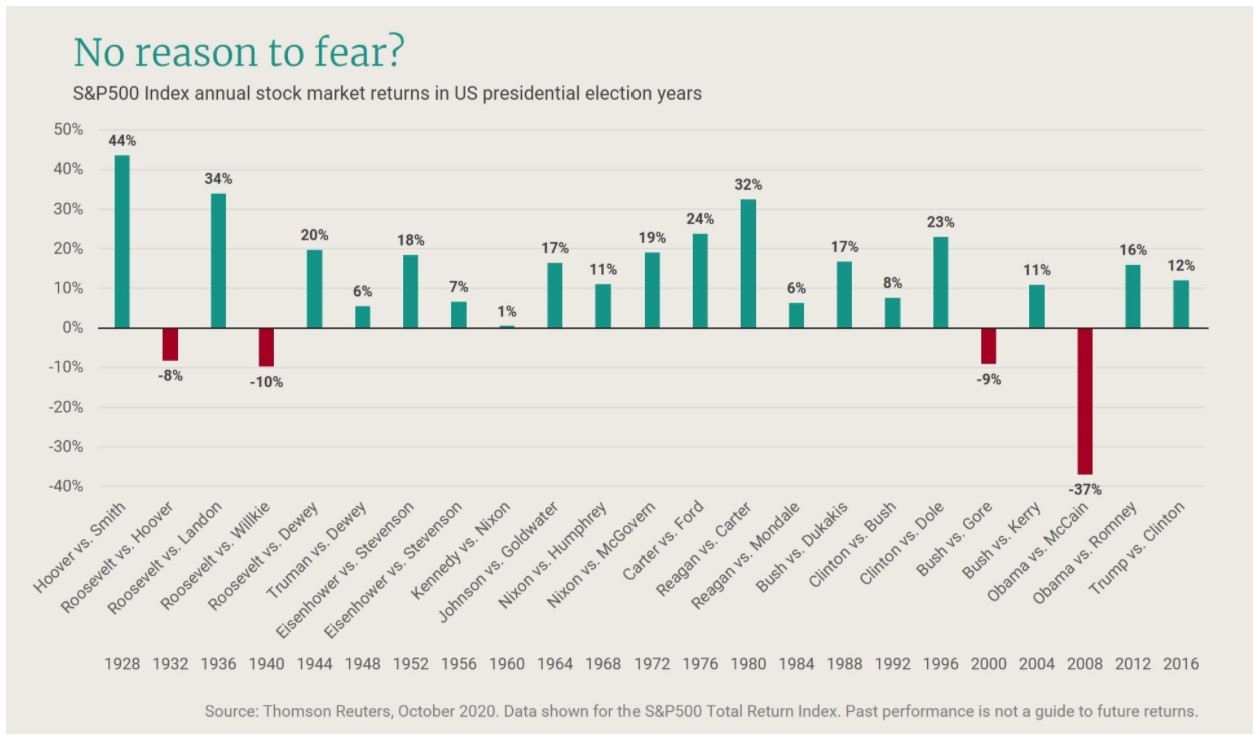 | | | | | | |
| --- | --- | --- | --- | --- | --- |
| | Sep 19-Sep 20 | Sep 18-Sep 19 | Sep17-Sep 18 | Sep16-Sep17 | Sep15-Sep16 |
| S&P500 | 9.1% | 9.6% | 20.6% | 14.1% | 33.7% |
Source: Financial Express; data shown for S&P500 Total Return index.
Past performance is not indicative of future performance.
The value of an investment with St. James's Place will be directly linked to the performance of the funds selected and the value may fall as well as rise. You may get back less than the amount invested.